Charismatic Poonam Datta has 25 years experience in the Global Supply Chain & Logistics arena, including Managing Director of A.P. Moller-Maersk Group. She is a seasoned and respected industry leader who has earned several awards and accolades for the success she has achieved in this industry.
She has made a mark as a business consultant in Supply Chain & Logistics / New Business Set-ups / Mergers & Acquisitions / Organizational Consolidation & Restructure / Turnaround Management / Blogs / Keynote-Speaker.
She is a beacon of light in the Supply Chain & Logistics industry
Ms. Datta's proven track record, relationship building and delivering record setting performances have been instrumental in assisting organizations and individuals to realize their potential and self-actualization goals. Her determination to fulfill a strong vision coupled with a passion to evolve excellence has led many multinational companies exceed their goals and sustain.
Ms. Datta has worked with A.P. Moller-Maersk Group from 1990 to 2005. During this period, she quickly grew through the ranks to become one of the youngest Managing Directors in the organization. She spearheaded revitalization of business processes within A.P. Moller-Maersk Group. She was also instrumental in grooming top-level managers to evolve and befittingly be a part of the fast-expanding multinational.
During the years of her service, Ms. Datta has always been keen to stay abreast with the latest business practices and management techniques. She has done her Masters degree from a premier B school. Ms. Datta believes in globalization and has been an advocate for harnessing best business results through harmonious use of human talents. Having traveled across the globe, she has gained knowledge of the multitude of global diversity, which has made a serious contribution to the success that she has earned.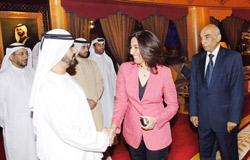 Poonam Datta with H.H. Sheikh Mohammed bin Rashid Al Maktoum, Vice-President and Prime Minister of the UAE and Ruler of Dubai
Ms. Datta has been inspired by the investor, businessperson, philanthropist Warren Edward Buffett and Bill Gates who innovated "business at the speed of light". Spiritual leader Dalai Lama and the humanitarian Mother Teresa who served the poor and underprivileged for over forty years, are her role models for the virtues and causes they stood for.
Ms. Datta hails from an aristocratic and illustrious family in India; her father Anand Datta, a successful writer and mother Sneh Datta, a linguist professor. Her grandfather Dr. G.L. Datta was a great academician and physicist who founded the DAV colleges in India, and later served Vice Chancellor of Ujjain University, India.
She is a multilingual world-class business consultant. She's an avid reader, enjoys writing and listening to world music. She follows sports and has contributed towards community development.
As Poonam rightly states - "All visionary corporations start out as a dream. It is the intellectual capital within that is the differentiator". Poonam walks her talk, making the fullest impact of a serious visionary who likes to be known on what she does, more than what she dreams.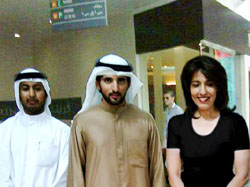 Poonam Datta with Crown Prince Sheikh Hamdan Bin Mohammad Bin Rashid Al Maktoum